Today, I am setting out on a journey to do what few people have done before – collect every Dreamcast game officially released in North America in one year. In this series, I will chronicle my holy quest.
Now, I already have about 47 games, so I'm giving myself a little head start, but even with that, it will still be challenging, really expensive and will require the utmost attention and dedication if I plan to succeed.
There will be a few stipulations that I will adhere to:
The collection must be completed in one year, beginning on March 12, 2018 and ending on March 12, 2019;
Games must be genuine, no reproductions or CD-Rs;
Games must be complete in box to count;
Only games officially published by SEGA count, so no indie games will be included;
I will do my best to buy primarily from physical stores, flea markets and yard sales; and
I will post a weekly journal entry to update my progress every Sunday.
I'll be using the official Dreamcast checklist but have also created the below spreadsheet that I'll use to track my progress, along with providing you some other interesting info, like where I purchased the game from and how much I paid for it. The spreadsheet will be included with every weekly journal entry for you to more easily follow my progress.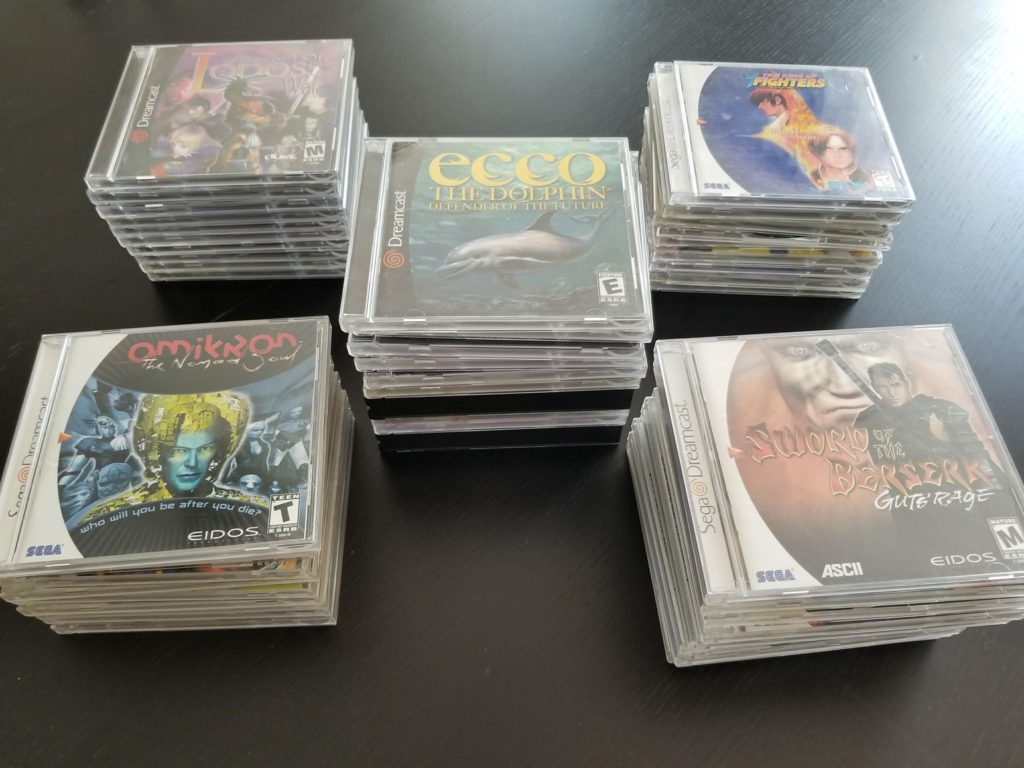 ---
Now, at this point, you might be asking yourself why I'm choosing to do embark on what some may consider a fool's errand. Well, the answer is pretty simple.
You see, I'm not one of those gamers who own a lot of the games they were originally given at their birthday parties or at Christmas growing up. My younger brother and I would get new games, play them until we beat them and then trade them in to get new games – the same way with our old consoles.
It all made perfect sense at the time, and I didn't hold the emotional attachment to my Genesis, Game Gear or Saturn back then as I do now. They were merely video games and systems, and when the next new SEGA system came out, we sacrificed our collection to the FuncoLand gods to obtain the next new thing.
But several years ago, I started to collect retro games and systems again. Before I knew it, I had every major video game system and handheld released in North America, with the exception of a few … namely a Neo Geo AES. As far as the game collecting went, I focused on getting the games I had fond memories of or ones that I always wanted to play but never got the chance.
I have tons of games on many different systems, but I'm nowhere close to having a complete collection for any of them, which leads us to where we are today. I finally want to have a complete collection, and I'm choosing my favorite SEGA system of all time.
So, I hope you come along with me on my journey and maybe give me some encouragement and some tips along the way. 🙂
Below is where you can track my current progress.
| Collected? | Game Title | Date Collected | Price Paid | Location |
| --- | --- | --- | --- | --- |
| ✓ | 102 Dalmations Puppies to the Rescue | July 15, 2018 | $9.99 | Classic Game Junkie |
| | 18 Wheeler American Pro Trucker | | | |
| ✓ | 4x4 Evolution | July 15, 2018 | $7.99 | Classic Game Junkie |
| | 4 Wheel Thunder | | | |
| | Aerowings | | | |
| | Aerowings 2: Airstrike | | | |
| ✓ | Airforce Delta | July 15, 2018 | $8.99 | Classic Game Junkie |
| ✓ | Alien Front Online | July 15, 2018 | $10.99 | Classic Game Junkie |
| | Alone in the Dark: The New Nightmare | | | |
| | Armada | | | |
| | Army Men Sarge's Heroes | | | |
| | Atari Anniversary Edition | | | |
| ✓ | Bang! Gunship Elite | March 30, 2018 | $14.99 | Video Nutz |
| | Bangai-O | | | |
| ✓ | Blue Stinger | March 30, 2018 | $14.99 | Powered By Games |
| | Bomberman Online | | | |
| | Bust-A-Move 4 | | | |
| | Buzz Lightyear of Star Command | | | |
| | Caesars Palace 2000 | | | |
| | Cannon Spike | | | |
| | Capcom vs. SNK | | | |
| ✓ | Carrier | Already owned | | |
| ✓ | Centipede | July 15, 2018 | $8.99 | Classic Game Junkie |
| ✓ | Championship Surfer | March 18, 2018 | $6.99 | Jay Street Video Games |
| | Charge 'N Blast | | | |
| | Chicken Run | | | |
| | ChuChu Rocket | | | |
| ✓ | Coaster Works | Already owned | | |
| ✓ | Confidential Mission | | | eBay |
| | Conflict Zone: Modern War Strategy | | | |
| | Crazy Taxi | | | |
| | Crazy Taxi 2 | | | |
| | D2 | | | |
| ✓ | Dave Mirra Freestyle BMX | March 24, 2018 | $6.99 | Next Level Video Games |
| ✓ | Daytona USA | Already owned | | |
| | Dead or Alive 2 | | | |
| ✓ | Death Crimson OX | Already owned | | |
| | Deep Fighter | | | |
| ✓ | Demolition Racer - No Exit | March 17, 2018 | $8.99 | Jay Street Video Games |
| | Dino Crisis | | | |
| | Disney's Dinosaur | | | |
| | Disney's Donald Duck Goin' Quackers | | | |
| | Draconus: Cult of the Wyrm | | | |
| ✓ | Dragon Riders: Chronicles of Pern | Already owned | | |
| | Ducati World Racing Challenge | | | |
| | Dynamite Cop | | | |
| ✓ | Ecco the Dolphin: Defender of the Future | Already owned | | |
| | ECW Anarchy Rulz | | | |
| | ECW Hardcore Revolution | | | |
| ✓ | E.G.G. (Elemental Gimmick Gear) | Already owned | | |
| | ESPN International Track & Field | | | |
| | ESPN NBA 2Night | | | |
| | Evil Dead: Hail to the King | | | |
| | Evolution | | | |
| ✓ | Evolution 2: Far Off Promise | $5 | Jan. 30, 2018 | eBay |
| ✓ | Expendable | Already owned | | |
| | F1 World Grand Prix | | | |
| | F355 Challenge Passione Rossa | | | |
| | Fatal Fury: Mark of the Wolves | | | |
| ✓ | Fighting Force 2 | March 30, 2018 | $7.99 | Video Nutz |
| | Flag to Flag (CART) | | | |
| | Floigan Brothers | | | |
| ✓ | Frogger 2 Swampy's Revenge | March 30, 2018 | $9.99 | Powered By Games |
| | Fur Fighters | | | |
| | Gauntlet Legends | | | |
| ✓ | Giga Wing | July 15, 2018 | $104.99 | Classic Game Junkie |
| | Giga Wing 2 | | | |
| | Grand Theft Auto 2 | | | |
| ✓ | Grandia II | Already owned | | |
| | Grinch, The | | | |
| | Gunbird 2 | | | |
| | Gundam: Side Story 0079 | | | |
| | Heavy Metal: Geomatrix | | | |
| ✓ | Hidden and Dangerous | March 18, 2018 | $9.99 | Jay Street Video Games |
| ✓ | House of the Dead 2, The | March 30, 2018 | $14.99 | Powered By Games |
| ✓ | Hoyle Casino | March 18, 2018 | $7.99 | Jay Street Video Games |
| | Hydro Thunder | | | |
| ✓ | Illbleed | Already owned | | |
| | Incoming | | | |
| | Industrial Spy: Operation Espionage | | | |
| | Iron Aces | | | |
| | Jeremy McGrath Supercross 2000 | | | |
| | Jet Grind Radio | | | |
| | Jojo's Bizarre Adventure | | | |
| | KAO the Kangaroo | | | |
| ✓ | King of Fighters Dream Match 99 | Already owned | | |
| | King of Fighters Evolution, The | | | |
| | KISS Psycho Circus | | | |
| | Last Blade 2, The | | | |
| | Legacy of Kain: Soul Reaver | | | |
| | Looney Tunes Space Race | | | |
| | MagForce Racing | | | |
| | Maken X | | | |
| | Mars Matrix | | | |
| | Marvel vs. Capcom | | | |
| | Marvel vs. Capcom 2 | | | |
| ✓ | Mat Hoffman's Pro BMX | Already owned | | |
| | Maximum Pool | | | |
| | Max Steel | | | |
| | MDK 2 | | | |
| ✓ | Metropolis Street Racer | Already owned | | |
| | Midway's Greatest Arcade Hits Volume 1 | | | |
| | Midway's Greatest Arcade Hits Volume 2 | | | |
| ✓ | Monaco Grand Prix | Already owned | | |
| | Mortal Kombat Gold | | | |
| | Mr. Driller | | | |
| ✓ | Ms. Pac-Man Maze Madness | Already owned | | |
| | MTV Sports: Skateboarding Feat. Andy MacDonald | | | |
| | Namco Museum | | | |
| ✓ | NBA 2K | Already owned | | |
| ✓ | NBA 2K1 | March 18, 2018 | $1.99 | Jay Street Video Games |
| | NBA 2K2 | | | |
| | NBA Hoopz | | | |
| | NBA Showtime | | | |
| ✓ | NCAA College Football 2K2 | March 18, 2018 | | Jay Street Video Games |
| | Next Tetris: On-line Edition, The | | | |
| ✓ | NFL 2K | March 18, 2018 | | Jay Street Video Games |
| ✓ | NFL 2K1 | Already owned | | |
| | NFL 2K2 | Already owned | | |
| | NFL Blitz 2000 | | | |
| | NFL Blitz 2001 | | | |
| ✓ | NFL Quarterback Club 2000 | March 18, 2018 | $1.99 | Jay Street Video Games |
| | NFL Quarterback Club 2001 | Already owned | | |
| | NHL 2K | | | |
| | NHL 2K2 | | | |
| | Nightmare Creatures II | | | |
| ✓ | Omikron: The Nomad Soul | Already owned | | |
| ✓ | Ooga Booga | Already owned | | |
| ✓ | Outtrigger | Already owned | | |
| | Pen Pen TriIcelon | | | |
| | Phantasy Star Online | | | |
| | Phantasy Star Online Ver. 2 | | | |
| | Plasma Sword | | | |
| | POD SpeedZone | | | |
| | Power Stone | | | |
| | Power Stone 2 | | | |
| | Prince of Persia: Arabian Nights | | | |
| | Project Justice | | | |
| ✓ | Psychic Force 2012 | Already owned | | |
| ✓ | Q*bert | Already owned | | |
| ✓ | Quake III Arena | Already owned | | |
| ✓ | Railroad Tycoon II | March 18, 2018 | $8.99 | Jay Street Video Games |
| | Rainbow Six | | | |
| | Rainbow Six Rogue Spear | | | |
| | Rayman 2: The Great Escape | | | |
| | Razor Freestyle Scooter | | | |
| | Ready 2 Rumble Boxing | | | |
| | Ready 2 Rumble Boxing: Round 2 | | | |
| ✓ | Record of Lodoss War | Already owned | | |
| | Red Dog | | | |
| ✓ | Reel Fishing Wild | March 18, 2018 | $11.99 | Jay Street Video Games |
| | Resident Evil 2 | | | |
| | Resident Evil 3 Nemesis | | | |
| | Resident Evil Code: Veronica | | | |
| ✓ | Re-Volt | | $9.99 | Jay Street Video Games |
| | Ring: Terror's Realm, The | Already owned | | |
| | Rippin' Riders | | | |
| | Roadsters | | | |
| | Samba de Amigo | | | |
| | San Francsico Rush 2049 | | | |
| ✓ | Seaman | Already owned | | |
| ✓ | Sega Bass Fishing | March 18, 2018 | $4.99 | Jay Street Video Games |
| | Sega Bass Fishing 2 | | | |
| | Sega GT | | | |
| | Sega Marine Fishing | | | |
| | Sega Rally 2 | | | |
| | Sega Smash Pack Volume 1 | | | |
| ✓ | Sega Swirl | March 18, 2018 | $4.99 | Jay Street Video Games |
| ✓ | Seventh Cross Evolution | Already owned | | |
| ✓ | Shadow Man | Already owned | | |
| ✓ | Shenmue | Already owned | | |
| ✓ | Silent Scope | July 15, 2018 | $5.99 | Classic Game Junkie |
| ✓ | Silver | Already owned | | |
| ✓ | Skies of Arcadia | Already owned | | |
| ✓ | Slave Zero | March 18, 2018 | $8.99 | Jay Street Video Games |
| | Sno-Cross Championship Racing | | | |
| | Soldier of Fortune | | | |
| | Sonic Adventure | | | |
| | Sonic Adventure 2 | | | |
| | Sonic Shuffle | | | |
| ✓ | Soul Calibur | Already owned | | |
| | Soul Fighter | | | |
| | South Park: Chef's Luv Shack | | | |
| | South Park Rally | | | |
| | Space Channel 5 | | | |
| | Spawn | | | |
| ✓ | Spec Ops II Omega Squad | March 30, 2018 | $5.99 | Video Nutz |
| ✓ | Speed Devils | Already owned | | |
| ✓ | Speed Devils Online Racing | March 30, 2018 | $9.99 | Powered By Games |
| | Spider-Man | | | |
| ✓ | Spirit of Speed 1937 | Already owned | | |
| ✓ | Sports Jam | March 25, 2018 | $14.99 | Next Level Video Games |
| ✓ | StarLancer | Already owned | | |
| | Star Wars Demolition | | | |
| | Star Wars: Episode I Jedi Power Battles | | | |
| | Star Wars: Episode I Racer | | | |
| | Street Fighter III Double Impact | | | |
| | Street Fighter III: Third Strike | | | |
| | Street Fighter Alpha 3 | | | |
| ✓ | Striker Pro 2000 | March 18, 2018 | $8.99 | Jay Street Video Games |
| | Stupid Invaders | | | |
| ✓ | Super Magnetic Neo | Already owned | | |
| | Super Runabout: San Francisco Edition | | | |
| ✓ | Surf Rocket Racers | March 18, 2018 | | Jay Street Video Games |
| ✓ | Suzuki Alstare Extreme Racing | July 15, 2018 | $6.99 | Classic Game Junkie |
| ✓ | Sword of the Berserk: Guts' Rage | Already owned | | |
| ✓ | Sydney 2000 | March 18, 2018 | $3.99 | Jay Street Video Games |
| | Tech Romancer | | | |
| ✓ | Tee Off | March 25, 2018 | $4.99 | Next Level Video Games |
| ✓ | Tennis 2K2 | March 25, 2018 | $7.99 | Jay Street Video Games |
| ✓ | Test Drive 6 | March 30, 2018 | $5.99 | Video Nutz |
| | Test Drive Le Mans | | | |
| | Test Drive V-Rally | | | |
| ✓ | Time Stalkers | March 9, 2018 | $14.50 | eBay |
| | TNN Motorsports HardCore Heat | | | |
| ✓ | Tokyo Xtreme Racer | Already owned | | |
| | Tokyo Xtreme Racer 2 | | | |
| ✓ | Tomb Raider: Chronicles | March 18, 2018 | $9.99 | Jay Street Video Games |
| | Tomb Raider: The Last Revelation | | | |
| | Tony Hawk's Pro Skater | | | |
| | Tony Hawk's Pro Skater 2 | | | |
| ✓ | Toy Commander | Already owned | | |
| | Toy Story 2: Buzz Lightyear to the Rescue! | | | |
| ✓ | TrickStyle | July 15, 2018 | $5.99 | Classic Game Junkie |
| | Typing of the Dead, The | | | |
| ✓ | Ultimate Fighting Championship | Already owned | | |
| | Unreal Tournament | | | |
| ✓ | Urban Chaos | March 30, 2018 | $29.99 | Powered By Games |
| | Vanishing Point | | | |
| ✓ | Vigilante 8: 2nd Offense | July 15, 2018 | $14.99 | Classic Game Junkie |
| | Virtua Athlete 2000 | | | |
| | Virtua Fighter 3tb | | | |
| | Virtua Striker 2 | | | |
| ✓ | Virtua Tennis | Already owned | | |
| | Virtual-On: Oratorio Tangram | | | |
| ✓ | Wacky Races | Already owned | | |
| ✓ | Walt Disney World Quest Magical Racing Tour | Already owned | | |
| ✓ | Wetrix+ | July 15, 2018 | $7.99 | Classic Game Junkie |
| ✓ | Who Wants To Beat Up A Millionaire | July 15, 2018 | $7.99 | Classic Game Junkie |
| ✓ | Wild Metal | Already owned | | |
| ✓ | World Series Baseball 2K1 | March 18, 2018 | $1.99 | Jay Street Video Games |
| ✓ | World Series Baseball 2K2 | Feb. 20, 2018 | $9.94 | eBay |
| | Worms Armageddon | | | |
| | Worms World Party | | | |
| ✓ | WWF Attitude | March 30, 2018 | $4.99 | Video Nutz |
| | WWF Royal Rumble | | | |
| ✓ | Xtreme Sports | July 15, 2018 | $5.99 | Classic Game Junkie |
| ✓ | Zombie Revenge | Already owned | | |