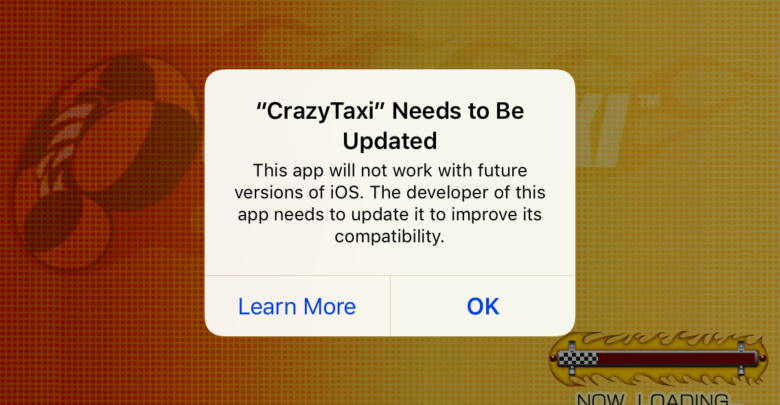 Apple will soon release iOS 11 for their iPhone and iPad devices, and with it comes a heavy toll. With the release of iOS 11, Apple intends to stop supporting 32-bit applications, so if an app has not been updated for 64-bit support, they will no longer function.
How many apps are affected? Right now the number stands at about 187,000 apps, which is about 8% of the total applications on the App Store. Unfortunately, many of SEGA's iOS titles are among them.
To see if an application is affected, simply boot it up and see if it loads a message stating:
"This app will not work with future versions of iOS. The developer of this app needs to update it to improve its compatibility."
While SEGA has not released a full list of affected titles, I ran through all of the SEGA-related games and applications on my own device to see if they contained the warning. The SEGA-related games which carry this warning include:*
Brick People
Chu Chu Rocket
Crazy Taxi XXX
Dragon Coins
Golden Axe III
Golvellius†
House of the Dead: Overkill
Sonic & SEGA All-Stars Racing
Sonic All-Stars Racing Transformed
Space Harrier II
Streets of Rage 2
Streets of Rage 3
Super Monkey Ball 2 Special Edition
Zaxxon Escape!
(Note: Not a fully inclusive list)
If you feel like you still want to experience any of these games on your iOS device, you'd best hold off on downloading iOS 11 when it releases later this year. Otherwise, your iOS device will be littered with digital bricks. So is the risk of an all-digital future, it seems.
We can hope for a last-minute miracle that SEGA may choose to update some of these games for 64-bit support, but don't count on it. Let us know if there are other apps on your device carrying the above warning and we'll update the list, accordingly. Now if you'll excuse me, I've got precious little time left to touch Streets of Rage 2's Blaze Fielding without looking like a weirdo by the random passerby.
*I was unable to get Golden Axe, Super Monkey Ball Bounce, or the Dreamcast Collection (a non-SEGA released collecting app, not a collection of Dreamcast games) apps to load using iOS version 10.3.1, so it's likely that these two games will not work, either
†Not an actual SEGA published release, but a port of the the SEGA Master System action-RPG by COMPILE, nonetheless