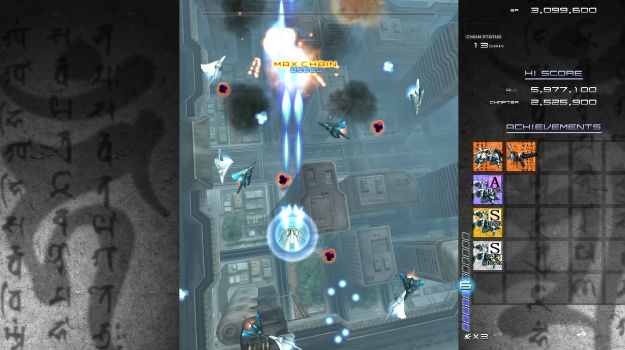 Are you ready to die … a lot? You better be because Ikaruga is hitting Steam in a mere four days, on Feb. 18, to be exact. The game's Steam page finally went live, and lists everything you'll want to know about the game before it becomes available.
No price is listed on the Steam page, but according to Treasure's Twitter, they're aiming for about $9.99, although that hasn't been finalized as of yet.
At launch, Ikaruga will only support two-player, local co-op, but online co-op is apparently promised at some point in the future, and it will support an Xbox 360 controller.
Below is a full list of the game's features:
The player ship, all enemies and bullets are black or white.
Player's polarity can be switched at will.
Your ship can absorb enemy bullets of the same polarity.
Filled energy goes to fire powerful homing lasers! (Release Power)
Defeat 3 enemies in a row of the same polarity and get the chain bonus!
Building up high scores feels like a puzzle game?
Spectacular 3D graphics. Fast and smooth game play.
2 Players game (Local) and
Double Play Mode: You can play 2 Players game with one controller.
5 levels. Tactical level design and boss battles.
3 difficulty levels: EASY, NORMAL, HARD.
Change your tactics depending on the difficulty.
2 Game modes: ARCADE, PROTOTYPE (not hidden).
Replay data save is available.
You can also download them from the Leaderboards.
Vertical screen mode support.
You can also play the game like a side-scrolling shooter by rotating only the game screen.
Xbox360 controller, Keyboard and Mouse support.