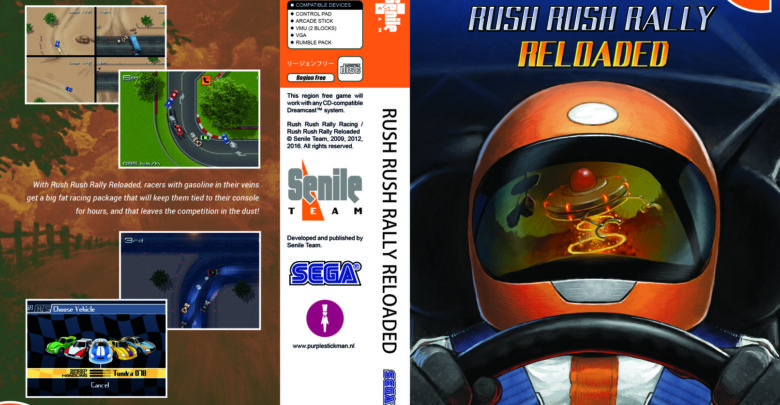 By way of our good buddies at the Dreamcast Junkyard, we've learned that developer Senile Team plans to re-release the Dreamcast/Wii racer Rush Rush Rally Reloaded on our lovable Dreamcast later this year.
This re-release, which we learned about from the DC Junkyard, will be in limited quantities, packaged in a PAL-style DVD long box and will feature a multitude of improvements from previous releases such as:
Two new single player modes: Time Attack and Challenge, which is like "Get Ahead" from the original game, but against CPU players.
Totally redesigned menus
Changed camera distance so you can see more of the road ahead
Some improved graphics, including: light beams are larger and rotated more smoothly, more colourful billboards, additional illustrations
Faster loading times
Stable 60fps in both single and multiplayer modes
Removed video mode switches between 640×480 and 320×240 resolutions, so low-resolution parts are now upscaled to 640×480
Support for more character sets in name entry
Usability improvements, such as last entered name is remembered for name entry so you don't have to re-enter your name every time you play
Improved legibility of internet score codes
Improved control configuration options
Added engine sound options
6 languages: English, German, Dutch, Spanish, French, Italian
DVD case version will feature an 8 page colour manual.
DC Junkyard's head junkie Tom Charnock, which just to be clear is where we received this information from and are crediting his work right here, and he learned the developer is also planning future re-prints of its other games, like Ghost Blade, Dux, Alice Mom's Rescue.
Charnock (that sounds a bit like an Animal Crossing name, doesn't it?) also interviewed Philippe Nguyen from JoshProd, which is a French publisher that specializes in re-releasing retro games. You can read that interview here.
[Via
Dreamcast Junkyard
]
P.S. If you haven't figured it out already, we're crediting the Dreamcast Junkyard as the source of our information in this article.