Dragon's Crown Pro is just a couple weeks away from its release on the PlayStation 4, and the good people at Atlus have released a video showcasing the game's upgraded visuals in 4K compared to what the original Dragon's Crown looked like. While still a beautiful game, Dragon's Crown Pro takes everything to a new level and looks absolutely gorgeous.
The game also features updated background music but gives players the option to change it to the original BGM in the audio options within the game.
Dragon's Crown Pro features:
Visuals Fit for an Ancient Dragon – With beautifully-refined artwork and 4K resolution support, Vanillaware's signature art style will come alive as you bludgeon, cleave, shoot, and loot through the dungeons of Hydeland.
A Rousing Adventurer's Soundtrack – A newly recorded soundtrack by fabled composer Hitoshi Sakimoto, supported by a live orchestra, will accompany daring treasure hunters on their search for the Dragon's Crown.
Glorious Presentation – Rejoice because English and Japanese audio options will now be available! Plus, game text will be localized in French, Italian, German, and Spanish.
All the Royal Bells and Whistles – If you already own Dragon's Crown, your saves won't go to waste. There will be online cross-play & cross-save compatibility with existing PS3 and Vita versions. Oh, and all patches, features, and the Storyteller Voice Pack DLC from the original game will be included!
Four Player Frenzy – With the fun local couch co-op and online multiplayer you remember, up to four players can experience countless hours battling together.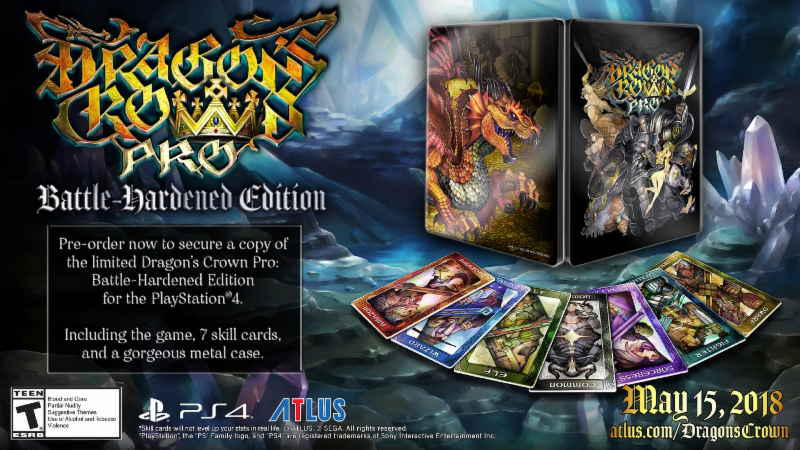 Exclusive to the west and only available in a limited quantity, the Battle-Hardened Edition of the fan-favorite multiplayer action-adventure game, Dragon's Crown Pro, brings Vanillaware's fantastical adventure into your hands as never before. The set includes 7 collectible skill cards representing the 6 different classes plus the common skills, and a shining metal case encapsulating this ultimate package for game collectors.
Dragon's Crown Pro will be available physically and digitally on the PlayStation 4 and PlayStation 4 Pro on May 15.