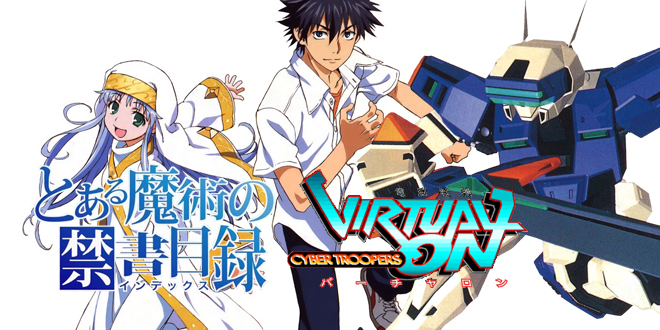 As we previously reported SEGA's mecha-combat game series Virtual On wil be colliding with one of Dengeki Bunko's most popular series, A certain Magical Index, for a light novel crossover to celebrate both Virtual On's 20th Anniversary and Kazuma Kamachi's (Heavy Object, Magical Index, Scientific Railgun) 12 years as a novel author.
Dengeki Bunko has finally unveiled the release date, novel cover artwork, and price for the Light novel 1 shot collaboration. "A Certain Magical Index x Cyber Troopers Virtual On" will be released this May 10th, 2016 in Japan for a price of 670 yen (+ taxes), preorders for the novel have started already on Amazon.
Celebrating a 20th anniversary, arcade games and "imagine breaker" join for a legendary collaboration!

In Academy City, there is a next-generation sport that is becoming very popular.
Using huge Melee combat mechas named Virtualoids have appeared in the streets. Using one on one combat and spread among Academy City students if they have the skill to operate them.
Equipped with a white special virtuaroid machine, code named Temjin, Academy City student, Kamijo Touma is about to start his 1st battle.

In an accident without precendents, Virtual On's world becomes fused with Academy City so a battle of epic proportions begins! Railgun fame student, Misaka Mikoto engages using the Raiden Virtuaroid! Adventure awaits.
Kazuma Kamachi is writing a completely new novel with original story for this collab, while Virtual On's mecha designer (and Gundam's), Katoki Hajime, is doing illustrations for the book.