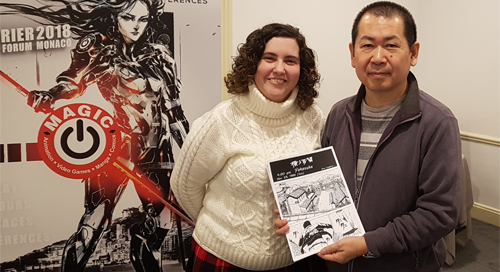 It has been roughly three years since Shenmue III had been announced at E3, and with each passing day, fans are getting more excited and anxious about the game's release. At this year's MAGIC Monaco, we got some more details about Shenmue III in the form of four new screenshots and an extended trailer from Gamescom last year.  
Thanks to the dedicated and passionate Shenmue fanbase, Yu Suzuki was able to shed some more light on Shenmue III's progress in a recent interview by Shenmue500K.
When asked about the most difficult character to design, Suzuki responded with Shenhua, stating:
Shenhua. Shenhua was the most difficult. It's tricky to get close to the image of her that I had been envisioning. But now there's a new method of creation called physically-based rendering. [To translator: It's difficult to translate, isn't it… [in English] "physical rendering."] With the adoption of this method, the light comes off the model really nicely, and with just a small adjustment to the model her whole facial expression changes. That goes for her hair as well as her facial expressions. Even if we're able to make Shenhua a beautiful-looking character, it takes a lot of time to make her compelling and to give her a distinctive personality; to create a heroine who is a good fit for Shenmue 3. I think we've reached a good Shenhua!
One fan asked Suzuki about Shenmue III's fighting system, where Suzuki once described the combat as a "thinking-style" game, but still action-based. Suzuki clarified that statement with the following:
Yes, basically it will be like Shenmue 1 and 2; where you move in real time when you press buttons. My meaning was that I won't make a game that relies on critical timing like Virtua Fighter. It is a real-time game. I'll be happy if I can express battles in a more Shenmue-like way, ones which tie in to the plot. With Virtua Fighter the player's commands are extremely critical, so I don't want to make it like that.
In regards to the fishing mini-game, one fan asked if Ryo could throw the fish back in the water if he does not want to catch it.
Fishing is one of the part-time jobs. So you can make money, starting from having none. There isn't the ability to release the fish you've caught, at the moment. But you can sell the fish you've caught based on its weight for money within the game. Once you have some money, you can make more at an amusement spot. Then you can buy things like items and skill books – you can purchase skills, you see. So in that way, the effects carry through to various parts of the game.

Even if you choose not to fish, there are other part-time jobs apart from fishing where you can earn money. So it's fine even if you don't fish. People who don't like fishing don't have to. [laughs] Because there are other part-time jobs available.
You can read the full interview by checking out Shenmue500K's website.