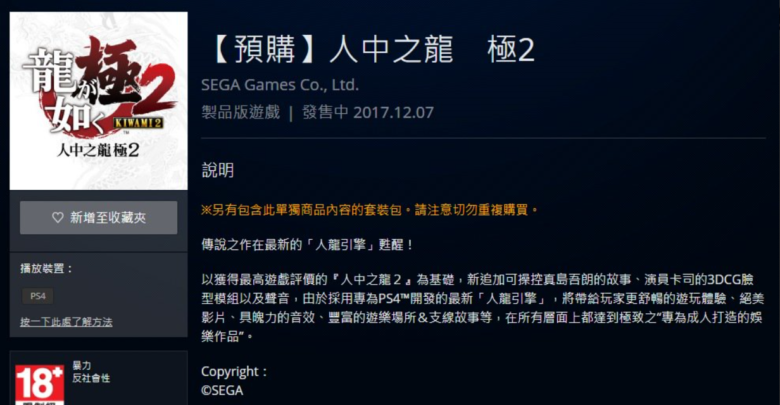 Current Gen
News
PS4
Rumour: Yakuza Kiwami 2 coming to Asia this December?
Game's release date leaked via Taiwanese PlaySatation store
With Yakuza Kiwami due for its Western release in just a few days (Aug 29, 2017), those plucky, keen-eyed folks over at NeoGaf have spotted a surprise on the Taiwanese PlayStation Store – the release of Yakuza Kiwami 2, this December!
Now, while NeoGaf does tend to be pretty hot on discovering things, we are still treating this as a rumour – as the link to the game on the Taiwanese store appears to be dead now, so we can't confirm its existence.
But there have been a couple of screenshots of the store front on NeoGaf and 4Chan, showing the logo for Yakuza Kiwami 2, along with the release date of "2017.12.07" – December 7, 2017.
For those who don't know, Yakuza Kiwami is a remake of the original PS2 Yakuza, developed for the PS3 and PS4. So it's only natural to assume that Yakuza Kiwami 2 would be a remake of Yakuza 2 for the PS4 (the store screenshot only shows PS4 as the listed console).
It wouldn't surprise me if this were true, Yakuza Kiwami has been very well received in both Asian and Western reviewers and the power of more modern consoles really brings the original game to life. So, I can easily imagine SEGA jumping on the opportunity to develop the sequel for the PS4.
Whether Yakuza Kiwami 2 comes to Western markets though is another thing. There's a strong chance it will, but I reckon that will all depend on well the first Kiwami game performs in sales.
The follow up question to a Western release would be "when?" Yakuza Kiwami was released in Japan back in January 2016, while the Western release has taken a good 1 year and 8 months to make it to the US and European markets. So if SEGA sticks to a similar launch schedule we probably won't see Yakuza Kiwami 2 until July 2019.
Still, if this is true, then it's exciting to SEGA following up Kiwami and supporting the franchise further.
[Source:
NeoGaf
]