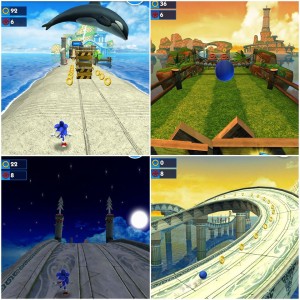 Even though Hardlight Studios recently soft launched Sonic Dash 2: Sonic Boom, the developer is apparently still hard at work, fine tuning the original Sonic Dash.
Hardlight released version 2.5.0 today, which adds day and night versions and improved performance on lower-end devices.
"Dash in the light of day and under the evening stars. Watch the world around you change as you run, from the dazzling sun rise to the brilliant sunset. See and play Sonic Dash in a whole new light," the update read.
As you can see in the image to the right, the game now transitions from a sunny day to the evening before finally going into full darkness, and the sequence begins with the dawning of a new day.
You can download the iOS version here, the Android version here, and the Windows version here.