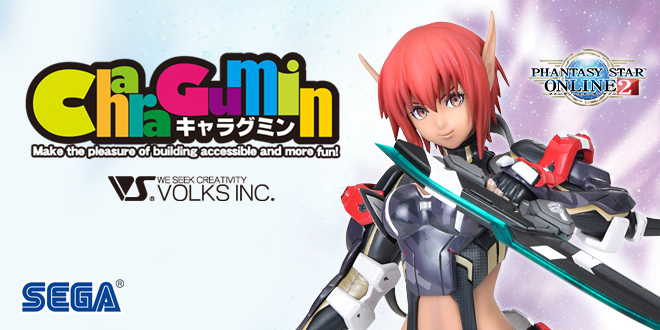 Japanese figure and model kit manufacturer, Volks Inc., has released today its second PSO2 HUnewearl Charagumin kit as part of the series 15th Anniversary. This huge 23 cms tall figure with 132 pieces is available internationally for 17,500 Yen + shipping (USD $162 + shipping) you can buy directly at Volks on this link. I you wish to get the first of these PSO2 releases, we posted info on the FOnewearl Charagumin on this link.
The second CharaGumin release from the SEGA online RPG game "Phantasy Star Online 2" is the super seductive HUnewearl!
After the previous and still on sale FOnewearl, this figure is made based on an offical SEGA illustration and under the thorough supervision of the game development team!
In addition to the thorough reproduction of the high-naked "Neighbor Quartz" costume,it is possible to replace the Twin Daggers standard equipment by the Lambda Legzaga option equipment.
Arks fellows, get the CharaGumin HUnewearl figure!!
Charagumins are a special Volks Inc line that are basically big gashapon-like figures / model kits, you assemble them, almost ready to go. But don't worry if you are not an expert in painting, fortunately Charagumin makes the plastic parts already on the color they should be, so you just have to assemble and paint small details, they even come with a set of eyes so you can use the face looking to where you want to (we did a full tutorial on how to assemble the Puyo Puyo Charagumins over here and a review over here). If you wish to now more about other SEGA Charagumins jump over to this link.
[Get the
Volks Inc. Hunewearl
]