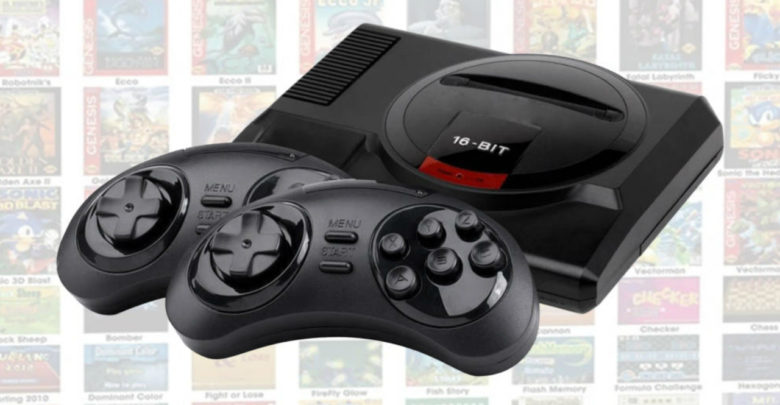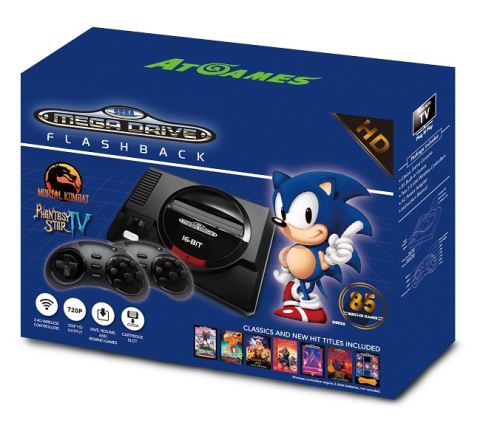 [
Update #1:
A poster on the Atari Age forums
posted
the above image of what's supposedly the official Mini Megadrive box. According to the poster, the system will also have a suspend/restore feature. Also, the list of pre-installed SEGA games (see below) has been updated with the latest information.]
Several months back, the Internet went crazy over the news that Tectoy would begin manufacturing Genesis systems once again. More annoyingly, many websites falsely led people to believe SEGA was somehow behind this new system and was taking on Nintendo's NES Classic, thus signaling the beginning of "Console War II."
The Tectoy Genesis looks great and all, with it using original hardware, including built-in games and ability to play actual Genesis cartridges, but the fact that it didn't include HDMI meant that it couldn't truly rival Nintendo's mini NES, at least in the average consumer's eyes.
But we've learned that AtGames will release a new Genesis, called the Mini Megadrive, that could actually be that contender, and it's coming later this year. The new system is designed to look like a Model 1 Genesis and will come with 85 pre-installed games, 2.4G wireless controllers, a cartridge slot and an HDMI out that will output video at 720p. It's now available to pre-order for a $10 limited-time discount at 79.99 Euros and is scheduled to begin shipping on Sept. 15. 
Even though Sega has been strict on not branching out their games to online casinos, you'll find many Sega inspired slots, such as Flame Busters and Arcader. You can find these games in most real money casinos, and for Sega lovers, this might be the closest thing to the real deal there ever will be.
Of course, we know that AtGames' previous efforts in manufacturing Genesis clone systems have left a lot to be desired, especially in the sound department, so the jury is still out on whether this system is truly worth your investment.
List of included games :
Mortal Kombat I, II, III
Virtua Fighter 2
Altered Beast
Phantasy Star series
Sonic Series
Golden Axe
Mortal Kombat
Phantasy Star IV
Shadow Dancer: The Secret of Shinobi
Sonic & Knuckles
Sonic the Hedgehog
Alex Kidd in the Enchanted Castle
Alien Storm
Altered Beast
Arrow Flash
Bonanza Bros.
Chakan: The Forever Man
Columns
Columns III
ComixZone
Crack Down
DecapAttack
Dr. Robotnik'sMean Bean Machine
ESWAT: City Under Siege
Eternal Champions
Fatal Labyrinth
Flicky
Gain Ground
Golden Axe II
Golden Axe III
Jewel Master
Kid Chameleon
Phantasy Star II
Phantasy Star III
Ristar
Shinobi III: Return of the Ninja Master
Sonic Spinball
Sonic the Hedgehog 2
Sonic 3D Blast
Sword of Vermilion
The Ooze
Vectorman
Vectorman2
Virtua Fighter 2
Shining Force: the Legacy of Great Intention
Shining Force II: the Ancient Seal
Shining in the Darkness
Super Thunder Blade
Mortal Kombat II
Mortal Kombat 3
Non-SEGA games:
Adventure in the Park
Air Hockey
Black Sheep
Bomber
Bottle Taps Race
Brain Switch
Break a Fireline
Bubble Master
Cannon
Checker
Chess
Cross the Road
Curling 2010
Dominant Amber
Fight or Lose
Flash Memory
Hangman
Hexagonos
Hidden Agenda
Hide and Seek
Jack's Pea
Jewel Magic
Jura Formula
Lost World Sudoku
Maze 2010
Mahjong Solitaire
Memory
Mirror Mirror
Mr.Balls
Mya Master Mind
Naval Power
Panic Lift
Plumbing Contest
Skeleton Scale
Snake
Spider
T-Rex Memory Match
Wall-Breaking
Warehouse Keeper
Whack-A-Wolf
[Via
JournalDuGeek
]